keanu reeves is kind of a meh actor.
but there's something about the movie Constantine that i love.
there were several cheesy or predictable parts, and i wish they had expanded on some of the other characters. also, plot holes, bleh!! but some of the good parts- were REALLY good! i feel that the movie would have been better if the whole thing was animated, it could take more advantage of the unrealistic scenes. the more i think about it, the more i think i like the concept of the movie instead of the movie itself (i'm not a religious type so i guess it's morbid fascination? heh). :/ but it won't stop me from watching it again! since i borrowed it from the library i've watched it about 5 times. i think i might get the DVD later since i enjoyed it so much!
my favorite part was probably everyone's favorite part: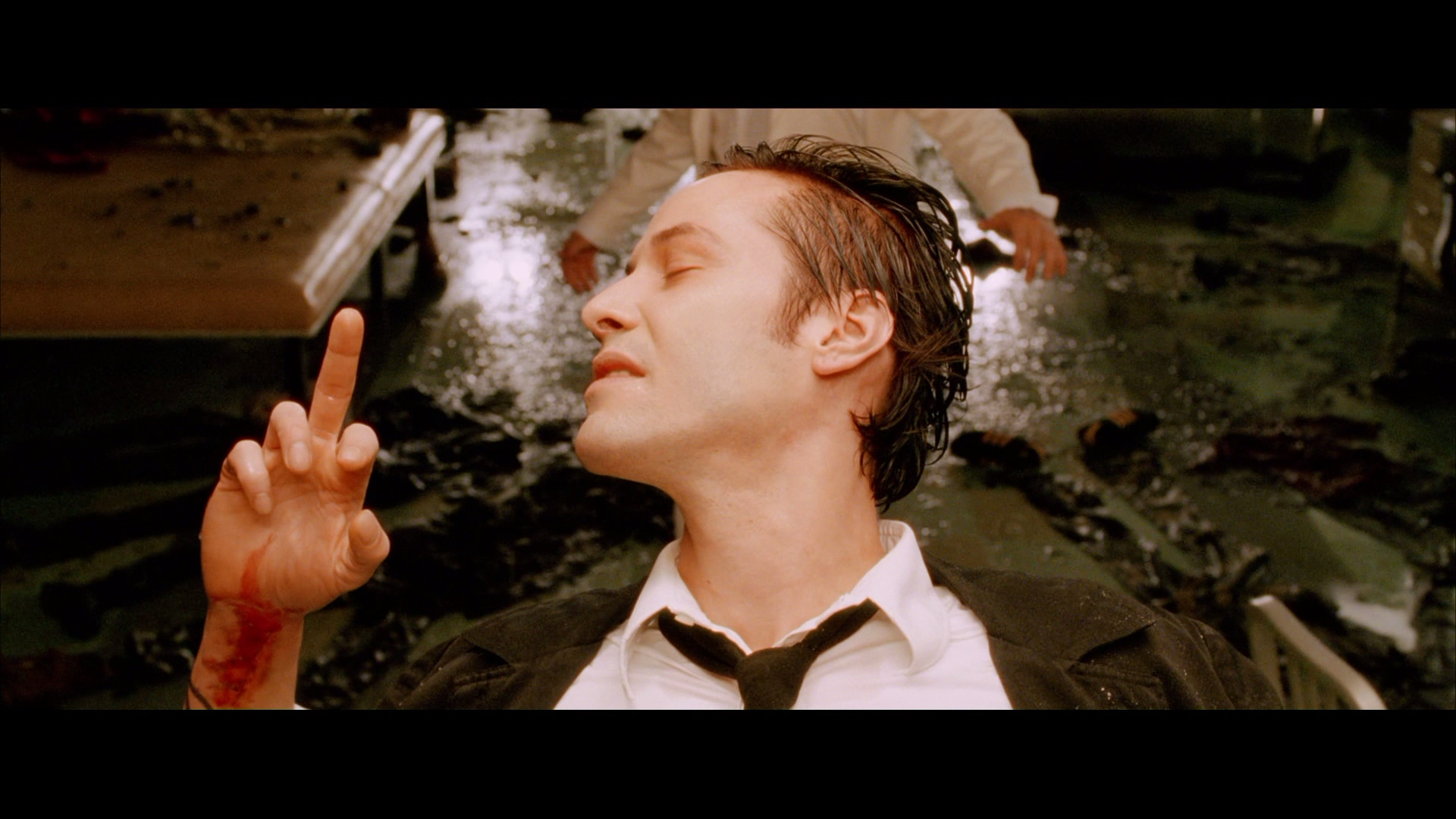 it's so comical- cynical- childlike!, i couldn't help grinning!
also, i wish it had more cat :)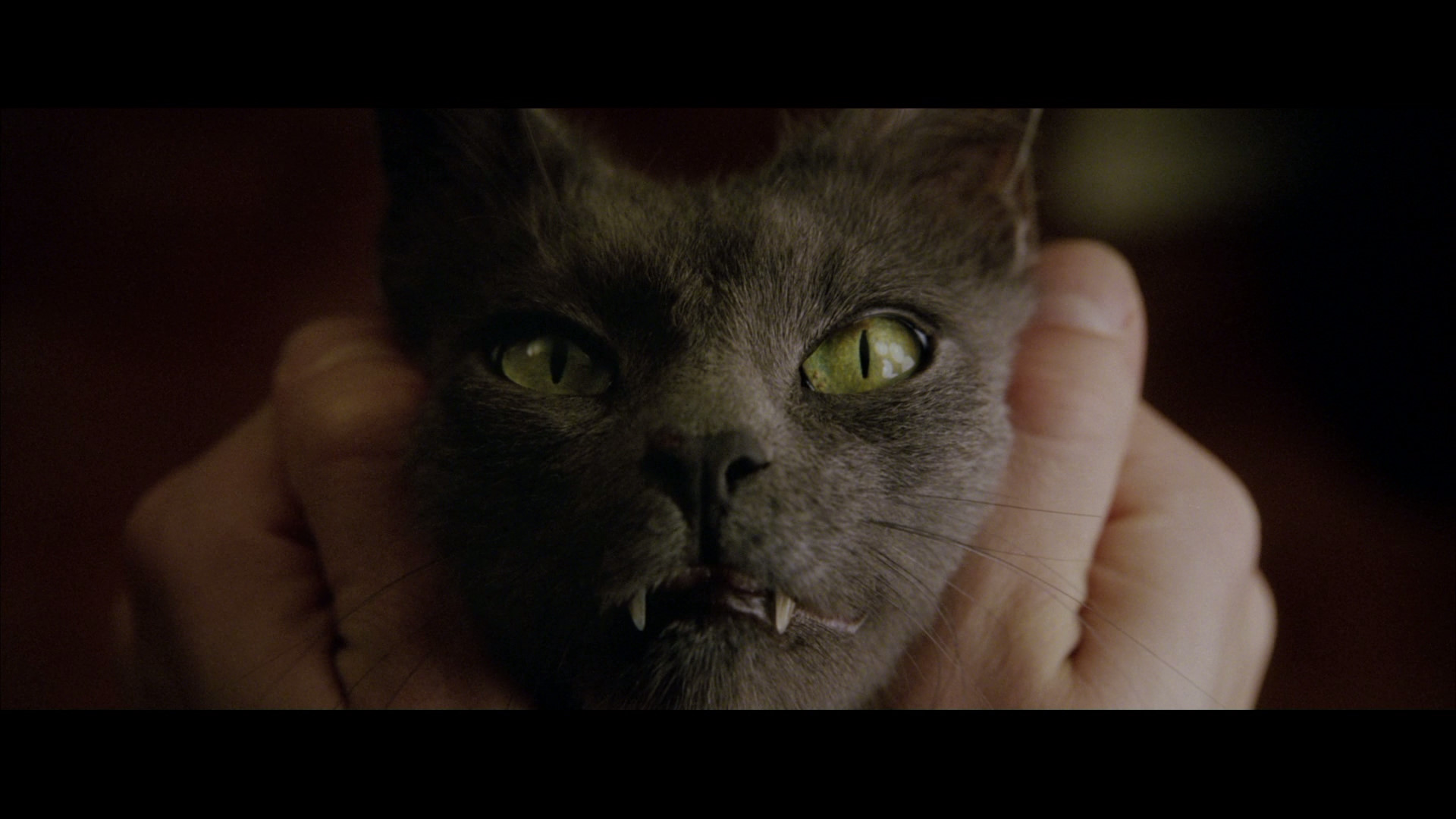 pictures from a great
blu-ray review article by Gary Tooze
.
i guess it's another one of my guilty pleasure movies. it could have been better, but something about the story makes me want to watch it again anyway.
since i'm starting to run out of batmans from the library (not to mention my complete disappointment in the frank miller batmans. everyone says these are THE BEST! MUST READS! but i really really disliked Dark Knight Strikes Again. Dark Knight Returns was kind of lame, too. especially after just finishing Identity Crisis [JSA], which is now the top my all time favorites list, it was extremely disappointing and not representative of the batman that i know and love.) i think i'll see what issues they have of Hellblazer so i can follow the rest of the Constantine story. :) shoot me some recommendations if you have any!
ok, that's all i have to say about that.
i also saw SUCKERPUNCH recently! i've been waiting a YEAR (ho so longggg, the anticipation!) for it to come out and it doesn't disappoint! i am definitely not saying anything about this movie yet because i want all of you to see it. the only hintings i will leave are: 1) MY GOD THE SOUNDTRACK IS AMAZING. lots of classics are redone and it's fitting for the picture. 2) I WANT TO BE THAT GIRL. i'm such a square, the only way i could be that bad ass is in my dreams!
now, forget what the reviews say and see it for yourself!
---------------------

Day 1: 5 interesting facts about yourself.
Day 2: The meaning behind your name.
Day 3: About your friends.
Day 4: About your family.
Day 5: A photo of something you really hate.
Day 6: A song that makes you cry.
Day 7: Your crush.
Day 8: Something you hate about yourself.

Day 9: Your definition of love.

affection, attachment, pleasure.
like happiness, but MORE.

// ADDENDUM
we mouthed the words to all of the saddest songs because they felt like home and i watched you out of the corner of my eye and that smile you gave me launched one thousand beats of my heart. so you can lean a little harder i will take that weight from you, i will be that call in the middle of the night the picture kept in your favorite book and it you just want someone to call yours i will be that tool i was just looking for someone to leave me breathless and i found it in you.... . and i dont want to miss you anymore so here is one song to call your own to kiss away the tears and leave no traces of pain so angelic and comforting these are my dreams all coming true and i must have played that message one thousand times just to hear your voice before i went to sleep


across the sea by *somnio-insania on deviantART

// END

Day 10: Your best friend.
Day 11:A letter to one of your exes.
Day 12: Your favorite female group.
Day 13: Your least favorite female group.
Day 14: Something you love about yourself.
Day 15: What you would if you were pregnant or got someone pregnant.
Day 16: A photo that makes you smile.
Day 17: A photo that makes you want to cry.

Day 18: A letter to someone you miss.
hi.
are you mad because i'm impossible to see? sorry for being a ghostie.
i think about you more than you know. i don't want to miss you any more but, trust me, all these stairs are leading up to an exit...
Day 19: A habit you wish you didn't have.
Day 20: A letter to your parents.
Day 21: Short goals you wish to fulfill by the end of the month.
Day 22: Your nicknames & why you have them.
Day 23: What you would find in your bag.
Day 24: A song that makes you smile.
Day 25: How you found out about blogger & why you made one.
Day 26: First 10 songs to play on shuffle on your iPod.
Day 27: Your fashion style.
Day 28: What attracts you to someone.
Day 29: Future plans/goals.
Day 30: Who are you?