earlier this year a live action Ghost in the Shell was made and i finally got around to seeing it.
a lot of people i know refused to support this film because of the white washing of the main character, major kusanagi. i was really torn because i'm a big fan of GITS but i'm also really upset about the lack of and/or stereotyping of asians in american films. but after seeing the movie, i'd really like to speak in defense of the film overall quality and encourage people who like movies or like GITS to watch it. the people in charge are not excused for not choosing an actual asian for the lead role, but i would like to point out that the quality of the story (movie) is not lessened by a haole. and yes, i mean haole in the literal definition, with no snark.
HOW THIS FITS WITH THE STORY
cutter, the head honcho of hanka is a haole, as well as a lot of people working on the project. so why wouldn't he make humanoid robots in his own image? matoko was originally a japanese but she lived with other runaways in the lawless area. basically, they are disposable humans for experimentation. the cyborg project is obviously a time consuming and costly project, why would the people in charge go through the trouble of making the robots look like the nobodys they were implanting? personally, if i were going to make the perfect version of myself... ok, i would still make cyborg avatar body chinese, but... white people have way better nose bridges. and slimmer noses. and slightly bigger boobs. and i love to color my hair, so why not start with a lighter brown or white instead of my natural black hair? what i'm trying to say, given the chance to make a more awesome me, why take all the stuff i don't want? flesh deteriorates but your cyborg body is forever (unless you get a refitting... sac 2nd gig reference) so choose wisely! the major did not really exist (because her human body was a nobody scooped up from the street) so there was no specific reason to make her asian. the company probably had body scans and molds of the other white people in the company so why not? the movie does note that she was japanese to begin with so that's fine. it would be more awkward if they had a haole with a japanese name living in hong kong. as for her english? i guess they can code that into her. it makes sense that a military person (or tool) is multilingual.
SCARJO IS A GOOD CHARACTER MATCH
after seeing Lucy, i was sure that scarjo would make a great major! she can do action scenes and is also a somewhat emotionless actor. i guess this might be a dig at her acting skills? but for the major's character, it is the perfect combo! this is absolutely how i saw her in the tv series. not that she doesn't feel things, she just acts very stoic. batou was the emotional one who made up for her (i'm recalling he rubbed mineral oil on his favorite tachikoma- and it ended up saving his life).
MY ACTUAL COMPLAINTS
- I WISH THE FEMALE DOCTORS WERE ASIAN
as for actual humans and humans with mods- if it takes place in hong kong (and this is obviously hong kong, right?) why wouldn't there be more female asians as doctors (or even just on the street)? i guess the city has really diversified over the years, like hawaii. female asian doctors! that's all i ask!
- NO SMOKING IN THE LAB
smoking is not allowed in the lab!
- KOWLOON CITY IS TOO CLEAN
i have an obsession with kowloon city. it simultaneously disgusts me (how can people just live in squalor like that! i would be forced to become a minimalist because i can't stand having all the crap around!) and fascinates me (seriously, how can your life be so complete and so condensed? and what secrets are hiding in the nooks and crannies of a city that is so poorly regulated?) this movie has such a bustling city life and the apartments are very much an ode to kowloon city (LOL even the super close airplane!) but if it were more realistic, it would be way darker and way gritty/grimy/grosser. have you seen the photos of kowloon city? it looks... slimy. i feel like i can smell the blood and garbage through the pictures! i would equate the harbor to the ala wai canal and would really not go swimming in there, even if i was a cyborg! fact: streptococcus biofilms are commonly found on pacemakers and can cause endocarditis. why chance it?! even daredevil (in the movie) went in his cement bathtub coffin to black out the sounds, why couldn't the major do that? maybe in the future, everyone is more concerned with cleanliness? they found a way to eliminate garbage tumbleweeds? as a microbiologist, one can only hope...
- NOT ENOUGH SECTION 9
i feel like the GITS story is as much about the team as it is about the major. it's kind of like an animated NCIS. and i would not watch that show if it was 90% about kensie and 10% team. or even 90% deeks or calen or G. it's about solving a mystery using everyone's unique talents. i guess they technically gave togusa some screen time. and even saito. but they were more like easter eggs for fans- it's more fun to see everyone in section 9 actually working together. my hope is: now that we have the backstory/origins/introduction, we can get another live action movie to show off the team?! so many cybercrime stories and ethical dilemmas to be told! surely there's enough content for another movie!
- NOT ENOUGH TACHIKOMA
because. the real joy and reason we watch GITS is for the tachikoma.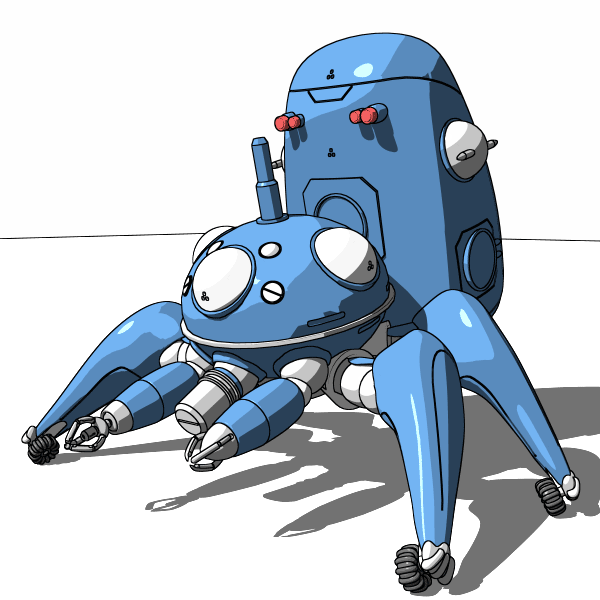 ONE MORE COMPARISON...
this year, i saw another movie that my asian acting friends have also called taboo: The Great Wall.
my initial impression: this is Pacific Rim, 2000 years ago. the plot... ugh. B movie from the get go. but i can't *completely* hate it. yes, they could have easily picked an asian guy instead of a haole to be the savior of the kingdom. but it is important to remember: the ancient chinese were really forward thinking people. if they saw good technology they probably adopted/adapted it, no matter who thought it up. if a guy comes to the wall with some useful talents, why not enlist him? nothing the army is currently doing is really working. besides, there are so many guards and advisors before getting to the actual ruling family, i'm sure matt damon would have be disposed of before he could pull a rasputin. also, there was no holding back on portraying the other haoles as conniving, greedy fucks. and there was also no proselytizing to the white people either. yeah, they helped protect the country from the monsters, but that doesn't make people worship you as a god. ancient chinese are way too smart for that. as i recall, there is even evidence of china-roman political relations. i don't see why it's impossible that the asians and haoles might not learn from each other or come up with a camaraderie of sorts in the face of eminent danger of the non-human sort. so from the story point of view- plausible. *also, i really love the crane corps girls. #circusgoals
i didn't like the movie, but i didn't hate it for the reasons my asian friends want me to. for both GITS and The Great Wall, the story and characters didn't lose continuity so i had no problem with the casting. we have much bigger white washing problems with movies like ALOHA (i absolutely will not see this) or the rumored upcoming movie about niihau.
FINAL THOUGHTS
as a GITS fan, this movie was good! it's what i expected of GITS! you could even like this if you like crime dramas like law and order! the stylization makes it even more interesting on top of the mystery- if you like blade runner you will like this (for the style, i mean. the robot component is the COMPLETE OPPOSITE of blade runner where robots are trying to be human. in GITS, humans are trying to be more robot [cyborg].) it's just enough in the future to let your imagination play but not too far in the future where it's impossible to believe the technology exists. please see this movie so it will make money and we can have a sequel(s). it's such a good series, i don't know how you could not like the story and characters. everything worked well in the live action, makes me want more! it also makes me want to shout, bring on the white washing of Cowboy Bebop! we can all agree who should be cast for the main roles, right?
#unpopularopinion